Large Food Warming Sleeve, bugging out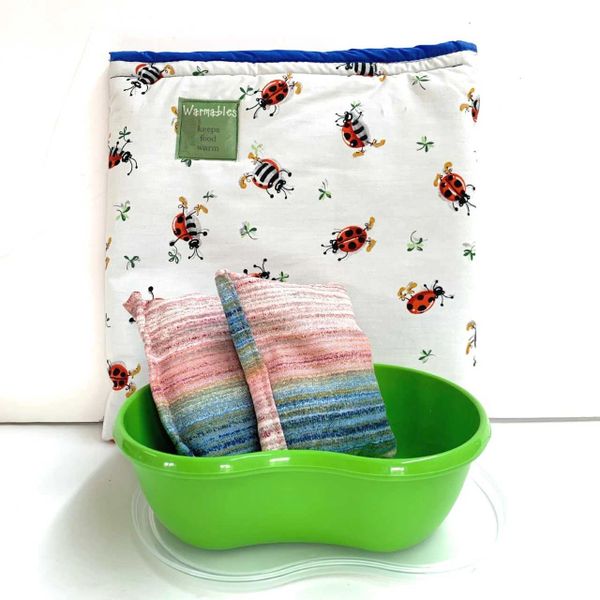 Large Food Warming Sleeve, bugging out
Food Warmer Sleeve 
Warmables Adult lunch box kits keep food warm for long periods of time. Warm time depends on food type, outside temperature and lunch box used along with the kit. The larger sets come with our warming sleeve (10x10"), a save food storage container that holds 26 oz of food and measures approx. 6x4x2". Also included are 2 small cotton bags filled with natural cherry pits. The cherry pits get heated in the microwave and are key to keeping the food warm longer. Detailed instructions come with each shipment. Warmables Food Warming Sleeves are used in combination with your insulated lunch box. Available in many colors and prints. Made in the USA from materials purchased and / or fabricated in the US or Canada. Warming sleeve is made from several layers of fabric including cotton, natural unbleached cotton batting, mylar, polyester and nylon. Food storage container is BPA- free, microwave and dishwasher safe. Cleaned cherry pits are shipped to us from cherry orchards in Michigan, 100% natural; unscented besides the natural cherry pit scent. All kits and other items/designs we offer are made by Warmables in Jersey City. We are family owned and run; we employ local high/college school kids along with seamstresses and helpers. All our team are paid fair wages.

Materials Used/ Care
Many layers of various fabrics are used for each kit. Most of them are materials are made in USA, kit is made in USA. We include natural, unbleached cotton, mylar, nylon, polyester. Wipe with damp cloth or machine wash. Lay flat to dry. DO NOT IRON OR PUT INTO MICROWAVE.
Returns
Don't like our Lunch Kit? We will gladly refund your entire purchase should you not be satisfied. We do ask you to return the entire kit once you have contacted us stating why the kit is not for you. Please e-mail us at info@warmables.com or call 201 860 0050.
How It Works
INSTRUCTIONS FOR LARGE AND SMALL WARMABLES FOOD WARMING SLEEVE
Fill provided plastic container with food. Heat THOROUGHLY. REALLY! Of course you can use your own container as well.
Heat cherry pit bags thoroughly, making sure NOT to burn pits. Depending on your microwave this will take 45-90 seconds. Heat in 30 second intervals, shake and repeat until hot. 
Put plastic container and cherry pit bags inside the WARMABLES WARMING SLEEVE and seal.
Put WARMABLES FOOD WARMING SLEEVE into your INSULATED lunch box. A standard children's lunch box will hold the kid's kit. Most lunch boxes are plenty big and allow you to pack snacks if needed. Better quality lunch boxes hold food warm longer.
Warmables is a bit bulky. It may take a bit re-thinking of how to pack lunch. Results are well worth this effort. Stiffness will ease with time. Make use of outside pockets and top compartments many lunch boxes feature. Please do not pack cold items with warm food as the heat will be cancelled out.
Featured Products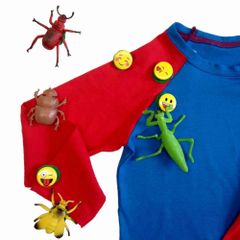 SOLD OUT
$29.00